EltaMD Sunscreens
EltaMD broad-spectrum sunscreens provide safe, broad-spectrum ultraviolet (UV) protection. A broad-spectrum sunscreen helps prevent sunburn and if used as directed with other sun protection measures, decreases the risk of skin cancer and early skin aging caused by the sun. Ultraviolet, or UV rays, are part of the invisible energy that comes from the sun. UVA (aging) rays account for 95% of our sun exposure. They cause skin aging and contribute to skin cancer. UVA rays penetrate deeply into the skin layers, damaging collagen and cells which leads to wrinkling, hyperpigmentation and loss of elasticity. UVB (burning) rays mostly affect the outer layer of the skin. They cause sunburns and tanning that increase the risk of skin cancer and other disorders. The risk for skin cancer doubles in people who have had five or more sunburns. Skin Cancer Foundation (Nov. 2010)
When wearing EltaMD sunscreens, the UVA and UVB rays reflect and scatter away from your skin, providing you protection from sunburn. EltaMD sunscreens help prevent sunburn and, if used as directed with other sun protection measures, decrease the risk of skin cancer and early skin aging caused by the sun.
All EltaMD sunscreens are formulated with zinc oxide, a natural, mineral compound. Because zinc maintains its protective ability in the sun, it is more photostable than some chemical ingredients that may degrade. Zinc sunscreen blocks the widest spectrum of UVA and UVB rays, protecting skin against burning and the premature appearance of aging and risk of skin cancer. Zinc is safe for even the most sensitive skin types.
EltaMD Products available at K2 Dermatology Clinic:

EltaMD UV Clear Broad-Spectrum SPF 46
Oil-free EltaMD UV Clear helps calm and protect sensitive skin types prone to discoloration and breakouts associated to acne and rosacea. It contains niacinamide (vitamin B3), hyaluronic acid and lactic acid, ingredients that promote the appearance of healthy-looking skin. Very lightweight and silky, it may be worn with makeup or alone.

EltaMD Tinted UV Daily Broad-Spectrum SPF 40
Serious UV protection and superior hydration join forces in this sheer facial sunscreen. EltaMD UV Daily has hyaluronic acid to boost moisture retention and diminish fine lines. This lightweight tinted moisturizer with UV protection can be worn alone or under makeup.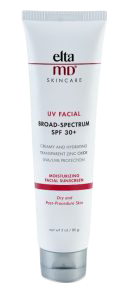 EltaMD UV Facial Broad-Spectrum SPF 30+
Elegant and silky on your skin, this fluffy moisturizing sunscreen may be used every day or after facial treatments. Developed specifically for moderate to dry skin, it is beneficial for all skin types needing a moisture boost and UV protection. EltaMD UV Facial can be worn alone or under makeup.

EltaMD UV Elements Tinted Broad-Spectrum SPF 44
EltaMD UV Elements is a 100% physical sunscreen in a tinted, moisturizing base. It is gentle for even the most sensitive skin types, including post-procedure skin. Its chemical-free actives, zinc oxide and titanium dioxide, provide safe but sure sun protection.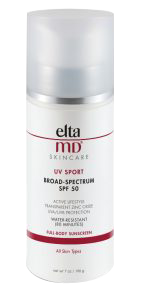 EltaMD UV Sport Broad-Spectrum SPF 50
Have your fun in the sun—but play it safe. This sunscreen is great for swimmers, skiers, runners, golfers and other athletes – or for those who just love to be outdoors! UV Sport is water-resistant so it won't rinse off in water or drip into your eyes and sting when you sweat.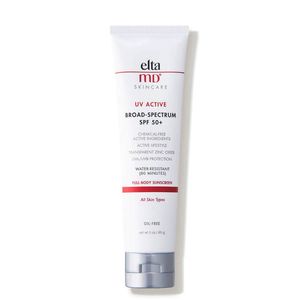 UV Active Broad-Spectrum SPF 50+
Protect your skin from aging and dehydration with EltaMD's UV Active Broad-Spectrum SPF 50+. This water-resistant sunscreen is specially formulated for those with active lifestyles and is also ideal for daily use for both adults and children. Made with zinc oxide, it helps to reflect and scatter UVA and UVB rays while knotgrass extract, rich in flavonoids, combats the signs of aging.

EltaMD UV Lip Balm Broad-Spectrum SPF 36
This creamy, long-lasting moisturizing sunscreen soothes and protects dry, chapped and sun-exposed lips. EltaMD UV Lip Balm contains 5% Hydromanil™ for immediate and long-term moisturization. Powerful UV protection and a super hydrating power make EltaMD UV Lip Balm the ideal protector for all skin types and lifestyles.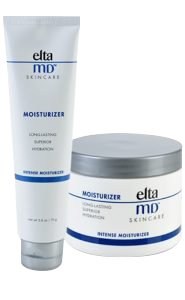 EltaMD Moisturizer
EltaMD Intense Moisturizer melts on contact and retains 90% of skin's moisture for at least 12 hours. It applies easily and gently to avoid disturbing tender, irritated skin. This intense occlusive moisturizer absorbs deeply to moisturize and soothe inflamed, irritated, flaky, intact post-procedure skin. This waterless, sensitivity-free moisturizer is well tolerated on extremely sensitive skin resulting from cosmetic and medical treatments, including radiation and tretinoin regimens.
EltaMD Moisturizer also works well on minor to severe burns, including sunburn.
Moisturizes very sensitive, dry skin
Relieves irritation, redness and flaking by creating an occlusive barrier
Free of fragrance, parabens and preservatives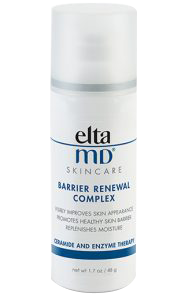 EltaMD Barrier Renewal Complex
EltaMD Barrier Renewal Complex is clinically proven to moisturize the stratum corneum and improve dry, compromised skin after a single application within 24 hours. This advanced formula works to visibly minimize the appearance of fine lines and wrinkles while significantly improving skin texture, tone and pore size.
A selected blend of ceramides and other essential lipids helps strengthen the barrier and restore its natural hydration system. Enzymes and vitamins minimize inflammation and promote skin cell turnover. Within 21 days, skin appears softer, smoother, healthier and more youthful. EltaMD Barrier Renewal Complex is fragrance-free, paraben-free, sensitivity-free and noncomedogenic.
Visibly improves skin appearance
Promotes healthy skin barrier
Replenishes moisture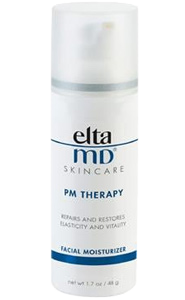 EltaMD PM Therapy Facial Moisturizer
This advanced facial moisturizer works to moisturize, restore and repair skin while you rest. EltaMD PM Therapy is oil-free, fragrance-free, noncomedogenic and safe for sensitive skin.
Ceramides strengthen the skin's natural moisture barrier. Niacinamide and antioxidants work to improve skin color and tone, while also speeding the metabolism to maximize the nightly skin repair process. Small rice protein peptides penetrate to stimulate cell growth and collagen formation, resulting in more skin elasticity. As it nurtures, revitalizes and oxygenates the skin, wrinkles fade and skin tone improves, resulting in a smoother, fresher appearance.
Strengthens the skin's natural moisture barrier
An antioxidant, peptide and ceramide blend helps diminish the visible signs of aging
Repairs and restores elasticity and vitality
Safe for all skin types